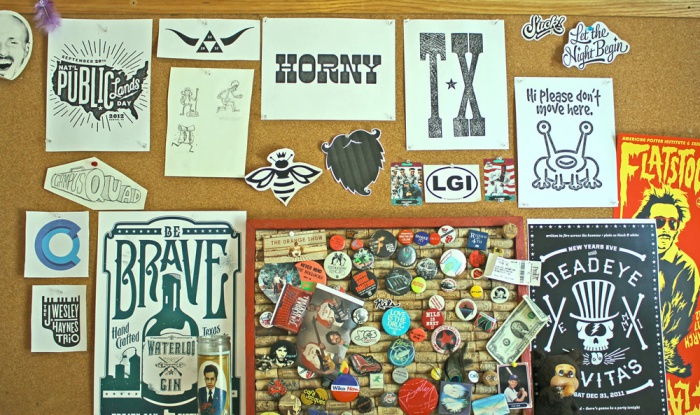 Thought i'd post a shot of my office bulletin board to shed some light on our recent work…As you can tell, we've been really busy lately.
In no particular order- you'll see branding for J.Wesley Haynes Trio, in-progress branding for a new iOS app called Campus Quad, more branding for Treaty Oak's new Starlite Vodka, a charity t-shirt design for National Public Lands Day, various t-shirt designs for our new Austin clothing line ATXTEES, and tons more stuff.  My dad's rock'n'roll button collection from the late 70's, a memento from our trip to Gasparilla Island in Florida, my ticket stub from a Phish show in Oklahoma, Munchichi- an old stuffed animal rescued from grandma's house in Atlanta, TX, some doodles for a survival blog, a sweet Flatstock poster by Bang! Media, among other things…
So that's what we've been up to…What chu been doin??